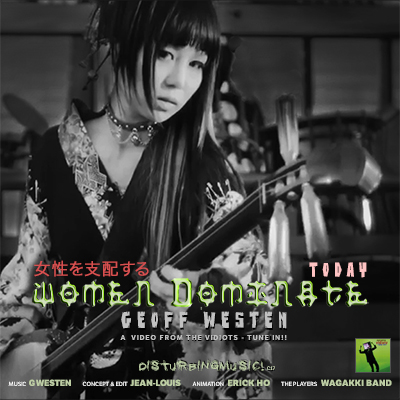 Los Angeles CA - "Women Dominate" the new video from Geoff Westen's album, VIDIOTS-Tune In!!, premieres today on Youtube and on the Disturbing Music website.
When collaborator Jean-Louis first heard "Women Dominate," he immediately launched into a creative mashup of visuals and music that punctuates Westen's storyline and creates a unique point-of-view for one of Geoff's singular musical narratives.
Westen's lover makes a bold move and runs away to Tokyo, leaving him to consider his options on running after her.
The music on Westen's pop CDs showcase his quirky and eclectic storytelling as he continues to follow his own musical muse, fearlessly showcasing his signature "wall of pop" sound,
Music critics raved about the album - "(VIDIOTS-Tune In!!) is a fresh twist on an old style, and Westen has discovered how to do it perfectly. If you enjoy '80s music, power pop, or are just looking to expand your musical horizons, I would certainly suggest looking into the album. For better or worse, it will certainly introduce you to something completely new." - Jess/StereoKiller.
Go to:
http://www.youtube.com/geoffwesten/videos